Booking widget b24_widget_656bd0a3967a1
ABOUT CANDIDASA
Previously, Candidasa was known as Teluk Kehen (Kehen Bay) and is located at Samuh-Bugbug village which is a small fishing village on the eastern shore of Bali in the district of Karangasem which has developed into a popular tourist destination. The main area of Candidasa is where you will see a natural lotus lagoon and two temples opposite the lagoon. The temple ceremony is normally held in the full moon of July or one day prior or after the full moon.
Here you will feel at home among the local people and being approximately 85 kms from International airport 'Ngurah Rai' it ensures tranquility, more adventorous and laid back atmosphere that tourists are looking for. Besides being near many top dive spots, Candi dasa is near many cultural treasures such as Besakih Temple known as mother temple of Bali and Tenganan Village. Samuh-Bugbug village itself where Candi dasa is located has a number of big temple festival and ceremonies to be held in July and October of the year. For those looking for a holiday off the beaten track a few days in Candidasa would be perfect.
On most weather of the year you will see local fishermen going out for fishing with their traditional boat called JUKUNG departing around 4.00am and return 7.00am. Tourist may arrange locally and join them to go fishing while experiencing beautiful sun-rise with a small charge.
Candidasa becomes more and more famous for diving. In the village there are several diving schools who can accompany you to beautiful diving spots in the bay of Candidasa including other best diving destination in east Bali such as Tulamben.
In the village there is a lovely lotus lagoon and there are some fascinating temples for you to visit. Of particular interest here is the Goddes of Fertility statue within the Candidasa temple.
Beside many hotels of all standards and prices, there is a variety of all kinds of restaurants loated within walking distance from the hotel you are staying. Many interesting places are within a short distance from the village. The first big city nearby Candidasa is Amlapura which is also worth a visit. Walk through the shopping street and visit the local market is one of the good things to do.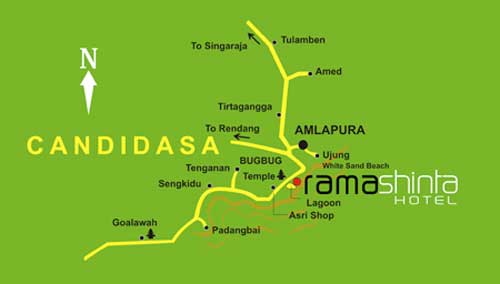 Places of interest around Candidasa
Ujung – approx 25 minutes
The Ujung 'water palace' was built in 1919, but totally damaged after the eruption of highest mountain of Bali 'mount Agung' in 1963. Only some statues and gates survived. The 'water palace' from Ujung is rebuilt with sponsorship from Worldbank, so now a visit to Ujung is absolutely worthwhile from where you can also see a beautiful view over the ocean.
Tirtagangga – approx 30 minutes
Taman Tirtagangga is lcoated at 6 km north of Amlapura town and was built in 1948 by the last King of Karangasem 'A.A. Ngurah Ketut' as a resting place. This water palace has unique architectural features represented by a combination of Chinese, European and traditional Balinese architecture. It is worthwhile visiting because of its swimming pool, with indescribably clear water, which visitors can use the whole day. The surrounding countryside has breathtaking views over the sublime rice-fields.
Pantai Pasir Putih – approx 10 minutes
Passing a village PERASI, here you will find a quiet white sandy beach which is located in a natural bay where you can swim in blue crystal clear water. It is an ideal spot to bask in the sun and bring your picnic basket with you or enjoy a drink or a small lunch at the local food stall 'warung' built there.
Budakeling – approx 30 minutes
On the way to Tirtagangga you will find a sign to Budakeling. This pleasant village, lying in beautiful surroundings is known best for its Brahmana Budha families. Also here you can find excellent gold and silversmiths who will offer you jewellery for low price.
Tenganan – approx 10 minutes
Just 7 km from Candidasa is Tenganan known as Bali Aga village (the original Bali). As an ancient village, Tenganan Pegeringsingan is identical with religious activities. Many temple festivals performed in this village that attract visitors to come. The most famous one is "Mekare-kare" or "Perang Pandan". This is a ceremonial fight or war using thorny pandanous leaves as the weapon. This festival usually takes place in relation to the celebration of "Sasih Kelima" or the fifth Balinese month. Many other uniqueness of custom and culture can be found here that make Tenganan worth to visit. A walk through Tenganan is very interesting to see how the people live, some temples, and some typical local architecture buildings.
Puri Agung Karangasem - approx 30 minutes
It is a palace built in 19th Century by Anak Agung Gede Jelantik, the first king of Karangasem Kingdom. This tourist destination is visited for its unique architecture, which is the combination of Balinese, Chinese and European architectures. Balinese architecture can be found on the carving of Hindu's statues and the relief on the wall of the building. The European influence is seen on the style of the main building with its large veranda, while the Chinese architecture is implied on the style of the window, the door and its other ornaments.
Tulamben - approx 45 minutes
is a small fishing village on the north-east coast of Bali. It is among the most popular dive sites in Bali since the wreck of the Liberty, a US Army Transport ship torpedoed by a Japanese submarine in 1942 lies just off shore. During high-season, this popular diving destination is visited by up to 100 divers descend to the wreck each day.
Padang Bai - approx 25 minutes
Padangbai is a harbour to cross to Lombok island where small and big ships drop their anchors. This area develops as a tourist object for some attractions it has, such as white sand, the beautiful surroundings and the amazing underwater panorama. Besides, the daily life of the traditional fishermen and the busy crowd in the harbour becomes another plus point of this area. This tourist object is also known for its sacred temples, Silayukti temple and Tanjung Sari temple.
Putung - approx 35 minutes
The most plus point of Putung as a tourist object is its wonderful and amazing pristine panorama, which is the combination of mountains and sea view in a distance. Putung lies on mountainous area that surrounded by dense trees, particularly "salak" or snake skin fruit garden. This makes the air in this area is very cool and refreshing. From this high place, you will be able to take a view around to see the scenery of terraced rice fields, the blue sea with fishermen ships catching the fish. The beauty of Putung becomes famous through the painting of an Italian painter who lived in this area for a long time and married a local woman from Manggis village.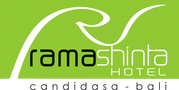 Jl.Raya Candidasa | Dusun Samuh Bugbug | Karangasem | Bali
Tel: +62 (0)363 41778
Fax: +62 (0)363 41903