Booking widget b24_widget_656bcf702ce8d
Welcome
Welcome to Rama Shinta Hotel, a Bali hideaway in peaceful Candidasa, East Bali.  Escape from the hustle and bustle and enjoy the serenity, tranquility in the sleepy seaside village of Candidasa. Rama Shinta Hotel is an enchanting and intimate 3 star hotel nestled within the quiet and natural environment of beautiful lagoon of Candidasa Bali opposite the sacred temple and only 1 minute from the beach.Rama Shinta Hotel's charming, two storey balinese-style building, comfortable rooms, lagoon-side Shinta restaurant, refreshing swimming pool are set within lush tropical garden. Natural colours and local materials are blended to create our property harmonises with the environment.
Rama Shinta Hotel is one of the preferred hotels in Candidasa Bali  for a hideaway destination in the east shore of Bali where you can be close to traditional life of Balinese people, shop for bargains along the main street and local markets, experience trekking hills, cycle through gently swaying fields of rice, visit ancient kingdoms and water palace, dive into an exotic world of underwater life. Here, there is a timeless quality as ancient cultures and traditions remain unchanged as an essentials element of daily life.
Whether your Bali visit is to spend your honeymoon in a romantic and hideaway environment, to explore the natural surroundings or just to experience a total experience and to be pampered, our staff's natural warmth and genuine Balinese hospitality will make your holiday an unforgettable memory.
Contact Us
+62 8 78 63 13 71 41 Tel: +62 (0)363 41778 |  Email: info@ramashintahotel.com
Connect with us!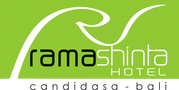 Jl.Raya Candidasa | Dusun Samuh Bugbug | Karangasem | Bali
Tel: +62 (0)363 41778
Fax: +62 (0)363 41903